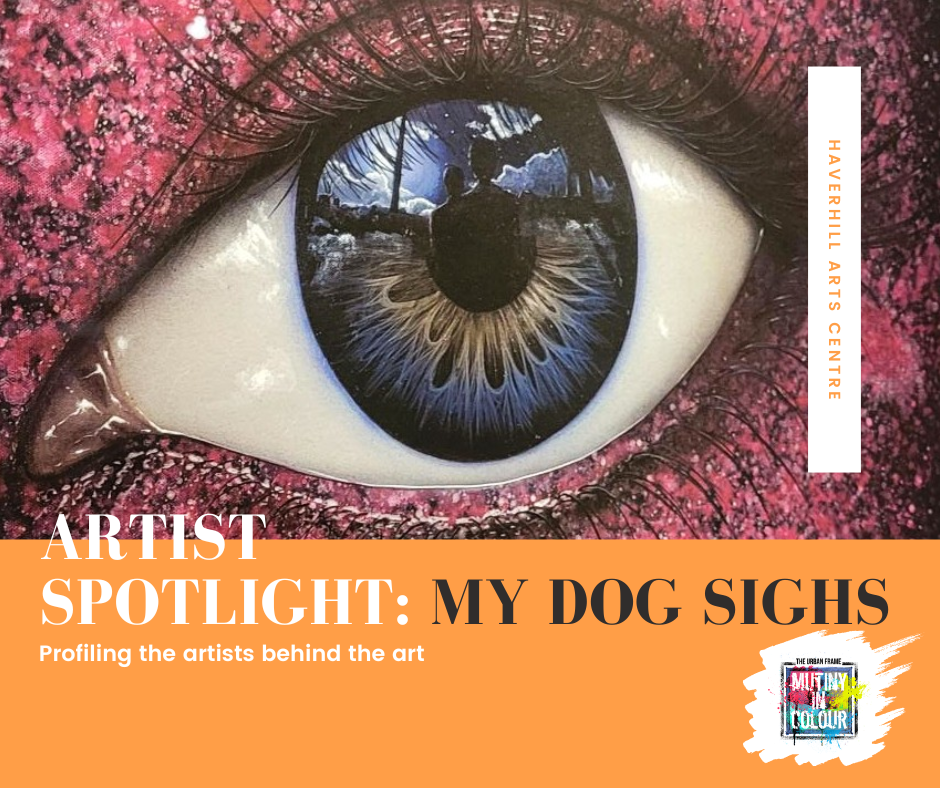 POSTED:
21st August 2023
21st Aug 2023
News
Artist Spotlight – My Dog Sighs
As our summer exhibition of Banksy and contemporary art enters its final weeks, we continue with our series profiling the artists behind some of the amazing art on display. Read on for a spotlight on the enigmatic and visually stunning My Dog Sighs.
My Dog Sighs is a UK artist whose moving and emotive creations have gained considerable attention and admiration around the world for his visually captivating works that combine melancholic and often naive portraiture with the use of found materials including abandoned food cans.
My Dog Sighs began his artistic journey exploring the streets and abandoned spaces of his home town of Portsmouth, seeking to make an impact on the urban landscape. With a background in traditional art, he seamlessly transitioned into the realm of street art, infusing his works with a deep sense of emotion and vulnerability.
The artist is known for his signature teardrop motif: whether painted on walls, dumpsters, or discarded objects, these teardrops symbolise the human condition—fragility, sadness, resilience, and hope—allowing viewers to connect with the art on a deeply personal level.
My Dog Sighs' art not only brings beauty to neglected spaces but also serves as a reminder of the human presence in urban environments. His works often feature expressive eyes, conveying a sense of introspection and inviting viewers to reflect on their own emotions and experiences.
See My Dog Sighs and more at our summer exhibition of Banksy and contemporary art: must end 12 September! Book tickets here