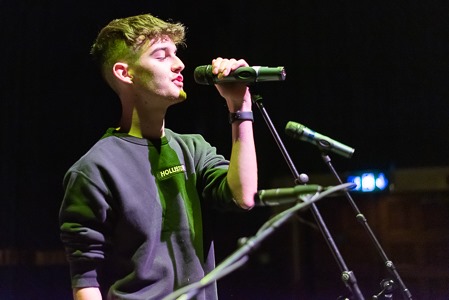 POSTED:
11th February 2020
11th Feb 2020
Review
February's Open Mic Night – A Review
Here's a lovely review from an audience member:
Make sure no one is reading over your shoulder. I am about to let you into Haverhill's best-kept secret. On the evening of Friday 7th February I was privileged to be part a really amazing evening of high quality entertainment at the Open Mic. night at the Haverhill Arts Centre. A great venue, warm hospitality and standout performances made for a very enjoyable night out.Like a chocolate box of Cadbury's Heroes there was something for everyone. And with heroic courage our performers stood before the Open Mic. The quality of performance was truly outstanding. Inspiring soloists moved us with songs of life, love and loss. We hung on their every word. Musicians impressed us with their technical abilities. Poetry and comedy added humour to the eclectic mix. Some artists were teenagers and others were teenagers at heart. As we sat at small tables with drinks from the bar, we enthusiastically applauded every act. They say the best things in life are free. That was certainly true at the Open Mic. night. Admission was free but I would have gladly paid to be there. It was a one-off, never-to-be-repeated experience. That is until the next Open Mic night on Friday April 3rd at 8pm. Now you are in on the secret, come along next time and take your place either in front of or behind the Open Mic.
Peter Goodhall, Haverhill resident
Book for our April Open Mic Night